Austrade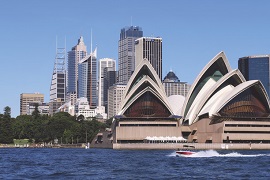 Photo: Tourism Australia
Austrade contributes to Australia's economic prosperity by helping Australian businesses, education institutions, tourism operators, governments and citizens as they develop international markets and promote international education; win productive foreign direct investment; strengthen Australia's tourism industry; and seek consular and passport services.
Doing Business with Australia
Austrade is also the Australian Government's lead agency responsible for assisting overseas companies establish and build their businesses in Australia.
If you are looking to do business with Australia, go to For International - Austrade.
Australia.gov.au and Australia Unlimited also provide gateways to information and services about Australia for foreign business people, in addition to material on culture, design, environment, food, science and technology.
BICON: Import Conditions Search
The Biosecurity Import Conditions System (BICON) houses the Australian Government's biosecurity import conditions database for more than 20,000 plants, animals, minerals and biological products.
OECD Guidelines for Multinational Enterprises

The Australian Government encourages Australian enterprises operating overseas and multinational enterprises operating in Australia to observe the OECD Guidelines for Multinational Enterprises. The Guidelines provide voluntary principles and standards for responsible business conduct in a variety of areas, including:
human rights;
employment and industrial relations;
environment;
combating bribery, bribe solicitation and extortion;
consumer interests;
science and technology;
competition; and
taxation.
The Australian National Contact Point (AusNCP) promotes the use of the OECD Guidelines and contributes to the resolution of issues relating to their implementation, including facilitating access to conciliation services.