Bilateral Relations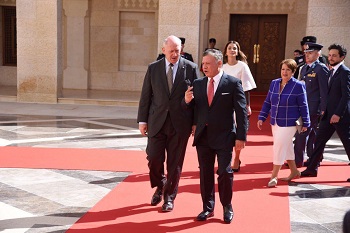 Their Majesties King Abdullah II and Queen Rania welcome the Governor-General of Australia, Sir Peter Cosgrove, and Lady Cosgrove to Jordan in October 2017.
Australia established diplomatic relations with Jordan in 1975. The Jordanian Embassy in Canberra was opened in 1976 and the Australian Embassy in Amman was established in 1979.
Australia and Jordan enjoy a warm and increasingly diverse relationship, underpinned by strengthening political ties, longstanding cultural links and a small trade relationship.
The historical dimensions of the relationship date back to the First World War, when Australians served as part of the Allied forces in the region, including modern-day Jordan, alongside the Sharif of Mecca's forces in The Great Arab Revolt against the Ottomans.
Australian institutions and Jordanian counterparts share over 50 years of cultural cooperation in archaeological research.
The political and economic relationship has expanded through regular high-level contact, including by ministers and parliamentary delegations. In November 2016, King Abdullah and Queen Rania visited Canberra and Sydney. There have been a number of high-level visits by Australians to Jordan, including the Governor-General, His Excellency General the Hon Sir Peter Cosgrove in October 2017.
Doing Business
Australia's principal exports to Jordan are live sheep and cattle and meat products. We also export some education services, with around 700 Jordanian students travelling to Australia each year. Two-way merchandise trade amounted to $158.7 million in 2016-17 ($130.8 million in exports from Australia and $27.9 million in imports from Jordan). In 2005 Australia concluded an MOU with Jordan on live animal shipment in order to underpin the trade and ensure respect of international animal welfare standards. Live exports to Jordan are also covered by the Exporter Supply Chain Assurance System (ESCAS).
Austrade's office in Kuwait is responsible for Jordan. Austrade's website has information on doing business in Jordan and market profiles of priority sectors, such as education, food and health and medical.
See also: Doing Business with Australia
Development Assistance
The Australian Government is providing $220 million in humanitarian assistance over three years to support people in need in Jordan, Lebanon and Syria. In Jordan, the focus is on increasing access to education and livelihood opportunities for refugees and vulnerable Jordanians, as well as providing emergency assistance so people can meet their basic needs. Read more
The Direct Aid Program (DAP) is a small grants program that is available on a not-for-profit basis to individuals, community groups and NGOs engaged in development activities in Jordan. It focuses on small-scale development projects that can provide direct benefits to those most in need in the local community. Read more
More Information
For further information, see http://dfat.gov.au/geo/jordan/pages/jordan.