Australian Government Response to the Syrian Humanitarian Crisis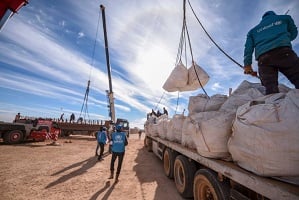 Photo: UN
The conflict in Syria has created one of the biggest humanitarian crises in the world today. According to the UN, more than eight years of war has left 11.7 million people in Syria in need of humanitarian assistance. This includes 5.9 million people who are internally displaced. A further 5.6 million Syrians are registered refugees in neighbouring countries, including Jordan, Lebanon, Turkey, Iraq and Egypt. About 90 per cent of refugees are residing in host communities, which is placing a strain on local resources, infrastructure and services.
Jordan has shown tremendous hospitality in hosting over 660,000 Syrian refugees registered with UNHCR. Jordan also hosts over 90,000 refugees from other countries, including Iraq, Yemen and Sudan, in addition to almost 2.2 million Palestinian refugees registered with UNRWA.
The Australian Government is providing $220 million in humanitarian assistance over three years to support people in need in Jordan, Lebanon and Syria (2017 to 2019). Prior to this, Australia provided more than $213 million in humanitarian assistance in response to the crisis since 2011. This included $87.5 million for assistance to people inside Syria and $125.7 million to help refugees and their host communities across the region.
In Jordan, we are helping to increase access to education and livelihood opportunities for refugees and vulnerable Jordanians, as well as providing emergency assistance so people can meet their basic needs. Our assistance is delivered through UN agencies, NGOs and the Government of Jordan:
Media Releases
4 August 2019: ILO and Australia sign agreement to advance decent work in the floriculture sector in Jordan
26 June 2019: Hajati cash assistance effective at keeping vulnerable children in school
18 April 2019: Ministry of Social Development, UN Women launch resilience and empowerment center for women and girls in Taibeh
29 October 2018: UNICEF opens first inclusive playground in Za'atari refugee camp, Jordan
1 October 2018: Model inclusive schools helping build a fairer society in Jordan
26 August 2018: Australia and Jordan sign funding agreement to improve access to education
13 February 2018: UN Women inaugurates its first 'Oasis for Women and Girls' in the Azraq Refugee Camp
19 October 2017: Governor-General of the Commonwealth of Australia announces additional humanitarian assistance to support food security and women's empowerment
26 September 2017: "Nashatati" After School Programme to reach thousands of students across Jordan
15 August 2017: Australia grants AU$15 million to UNHCR Jordan to support Syrian refugees in the country
27 July 2017: Australia grants additional AU$13 million to UNICEF in expanding access to education for vulnerable children in Jordan
Publications
7 August 2018: Tailor made: How Syrian refugee women are finding their own way to join the Jordanian economy (Oxfam)
31 July 2018: Removing barriers: Disability assessment among Syrian refugees in Jordan and Lebanon (Humanity & Inclusion)
Videos
UNICEF
Australia Assists
UN Women
Oxfam
Caritas
Direct Aid Program (DAP)
The Direct Aid Program (DAP) is a flexible small grants scheme designed to support community development activities. It is available on a not-for-profit basis to individuals, community groups and NGOs in Jordan.
Council for Australian-Arab Relations (CAAR)
The Council for Australian-Arab Relations (CAAR) was established by the Australian Government in 2003 as an initiative to strengthen ties between Australia and Arab countries. The CAAR Grants Round seeks applications for projects that enhance Australia's economic, cultural and social relations with the Arab world. The projects can take place in either Australia or the Arab world, but must have an Australian partner. For more information, see http://www.dfat.gov.au/caar/index.html.