Welcome to the website of the Visa Office of the Australian Embassy in Jordan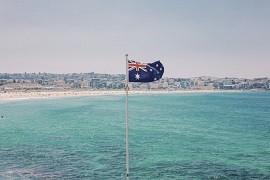 Photo: Tourism Australia
We are an overseas office of the Department of Home Affairs. Our office manages visa and citizenship services to Australia for residents of Jordan, Syria and Iraq.
Every nationality passport except for Australian or New Zealand citizens will need to obtain a visa prior to travelling to Australia. This website provides information on visa and citizenship services provided by our office in Jordan.
For further information about all Australian visas, including visas processed in Australia, please visit our Department's website at http://www.homeaffairs.gov.au/.
For information on citizenship-by-descent applications, please see http://www.homeaffairs.gov.au/Trav/Citi/pathways-processes/application-options/descent.
What's New?
In line with its continuing business process improvement initiatives and the benefits of online services, the Department of Home Affairs aims to streamline visa lodgement processes by mandating online lodgement of Partner, Prospective Marriage and Transit visa applications. Therefore, from 1 July 2018, applications for the following visas must be lodged online, via ImmiAccount:
Partner (subclass 309/100 and 820/801)
Prospective Marriage (subclass 300)
Transit (subclass771)
ImmiAccount must be used to lodge an application and submit supporting documents online.
Please note that the above changes do not affect Partner and Prospective Marriage visa applications lodged before 1 July 2018. If an applicant applies for a Prospective Marriage, Partner visa or Transit visa application on or after 1 July 2018, they will need to lodge online.
For any further information, please visit https://www.homeaffairs.gov.au/News/Pages/changes-to-lodgement-methods-for-family-stream.aspx.
Which Visa Should I Apply For?
If you have any queries about the type of visa you should apply for, the Visa Finder can help you find the Australian visa most likely to meet your specific circumstances.
For the full range of visa options along with checklists and information relating to each visa category, please visit http://www.homeaffairs.gov.au/Trav/Visa-1.
How Do I Apply For a Visa?
The quickest and easiest way to apply for a visa is to apply online using ImmiAccount. Using ImmiAccount will ensure you receive a decision faster than submitting a paper application. Payment for your visa application can also be made through ImmiAccount. The benefits are described at https://www.homeaffairs.gov.au/trav/visa/immi.
The Department of Home Affairs is gradually moving all of its visa products to online lodgement only. Paper applications may no longer be accepted for some visa types.
If you apply on paper, you must use the correct and most current form to apply for your visa. You must certify and copy all of your documents before submitting them with your paper application. All forms and booklets can be downloaded as PDF files from Departmental Forms.
Paper applications for certain visa types can be lodged through the Australian Visa Application Centre (AVAC). For certain visa applications, you may also be directed to have biometrics taken at the AVAC. Further information on the AVAC, including which visa types allow paper-based applications, is available at https://au.tlscontact.com/.
Paper applications made by persons residing in Iraq or Syria can be mailed or couriered to the Australian Embassy in Amman. Paper applications that are mailed directly to the Embassy by Jordan-based clients will not be accepted.
Self-referred Refugee visa applications will generally not be accepted for processing by the Australian Embassy in Amman. Information about Refugee visa lodgement can be found here. Special Humanitarian visa applications must be lodged in Sydney without exception. Further information regarding Global Special Humanitarian visas can be found here.
Mandatory Appointments for Australian Visa Application Centre Clients
With effect from 26 August 2018, customers wishing to attend the AVAC must register on the following website and book an appointment prior to attending the Visa Application Centre. Customers who are seeking to provide biometrics following submission of an application through the Department of Home Affairs ImmiAccount should not register on this website until they have received a letter from the Department of Home Affairs, advising them of the requirement to enrol biometrics.
Important Information When Applying For Visas
To ensure speedy processing of your application, complete all of the information in your application form, and submit all of the required documentation.
You should not book flights or make travel commitments until you have a visa to travel to Australia. The Department will not be liable for any financial loss incurred by clients whose visa application was finalised later than expected or where an application is unsuccessful.
Your Australian visa application could take longer if you need character or health checks (including chest x-rays), if you need to provide more information, or if your application is incomplete.
You must be truthful in any application you make with the Department. An application for a visa may be refused if false or misleading information or bogus documents have been supplied. Providing a bogus document or false and misleading information in relation to an Australian visa application may result in you being prevented from being granted a visa to Australia for a number of years. For more information please see https://www.homeaffairs.gov.au/trav/life/publ.
How to Pay
Payment for online applications can be made through ImmiAccount.
If you cannot apply online AND your paper application form is being sent to an Office located inside Australia, then the preferred payment method is to pay online using ImmiAccount. You can pay online for paper applications using the Pre-pay Paper Service option within the Manage Payments section in ImmiAccount. A copy of the receipt should be attached to your application when it is lodged with the Department.
Acceptable payment methods in ImmiAccount are:
MasterCard (including Debit MasterCard)
VISA (including VISA Debit Card)
American Express
Diners Club
JCB
China UnionPay
pre-paid credit cards
PayPal
A surcharge can apply to transactions made using a credit card or PayPal.
Parents applying for visitor visas to Australia
Since 24 November 2012, parents of Australian citizens and permanent residents have been eligible to be granted more generous Visitor visas.

These arrangements allow parents, typically retired, who wish to visit their Australian citizen or permanent resident children in Australia and who meet the criteria for a Visitor visa to have regular extended visits with their family in Australia without needing to apply for a new visa on each visit.
These arrangements are not intended for non-citizen parents of minors who are Australian citizens or permanent residents.
Multiple entry visas with a maximum stay of 12 months will be considered on a case- by-case basis with maximum validity periods of up to:
five years for parents outside Australia and in the Parent visa queue
three years for parents outside Australia who have:
- had a previous Australian visa and complied with the conditions; and
- have not applied for a Parent visa; or
- have applied for a Parent visa but are not yet in the Parent visa queue
18 months for parents who have:
- not previously travelled to Australia; and
- have not applied for a Parent visa; or
- have applied for a Parent visa but are not yet in the Parent visa queue.
Please note that longer validity visas:
will not be considered for people requesting stays of less than 12 months
are not available to people who apply in Australia
will be subject to condition 8503, which means that you cannot apply for a new visa while you are in Australia. This condition may be waived in exceptional circumstances.
In addition to meeting all other Visitor visa requirements, you will need to:
Indicate clearly on your application form that you wish to apply for a longer validity visa (with 12 month stay).
Undergo a medical examination - More information on this requirement is available. See: General Information
Maintain health insurance while in Australia - More information on this requirement is available. See: General Information. It is strongly recommended that you include evidence of a health insurance policy covering the first 12 month period of your stay in Australia when you lodge your Visitor visa application. This is important as condition 8501 will generally be imposed on parents of Australians who are visiting for regular, longer periods under the above special arrangements. This condition requires visa holders to maintain adequate arrangements for health insurance each time they enter Australia.
Ensure that you do not stay in Australia for more than 12 months in any 18 month period. Like all visitors, parents granted Visitor visas are expected to maintain extended periods of absence between visits to Australia. Your visa will be subject to condition 8558, which states that you must not stay in Australia for more than 12 months in any 18 month period. If you do not comply with this condition, your visa may be liable for cancellation.
For further information about these arrangements, please visit https://www.homeaffairs.gov.au/trav/visa-1/600-
Processing Times – Other Applications
For processing times for other visa classes/categories, please see Global Service Standards.
Migration Fraud – Visa Scams
The Australian Embassy Amman is aware of several email scams targeting Syrian, Iraqi and Jordanian nationals, in addition to nationals from other countries. For more information regarding visa scams, please click here.
Translation Services
Translation offices and related companies are entitled to charge you a fee to assist with completing your application form. Please consider if you think the sum of money you are being requested to pay to complete your application form and any other services is reasonable.
Please be wary of companies that make unrealistic claims – "Your application cannot be refused for any reason", "If we assist with your forms, you have a higher chance of success", "If you do not pay me this additional money, you will be refused from entering Australia forever".
Client Service Feedback and Suggestions
We value your feedback. Your compliments, complaints or suggestions provide the department with information to help improve the quality of our services. If you have any feedback and suggestions please visit Client Feedback.
Contact Us
For post-lodgement enquiries about visas, migration and citizenship currently processed in Amman, contact the Home Affairs team in Amman by emailing immigration.amman@dfat.gov.au.